SWAIT HISTORY
 INNOVATORS FLYING CADILLAC'S IN THE AIR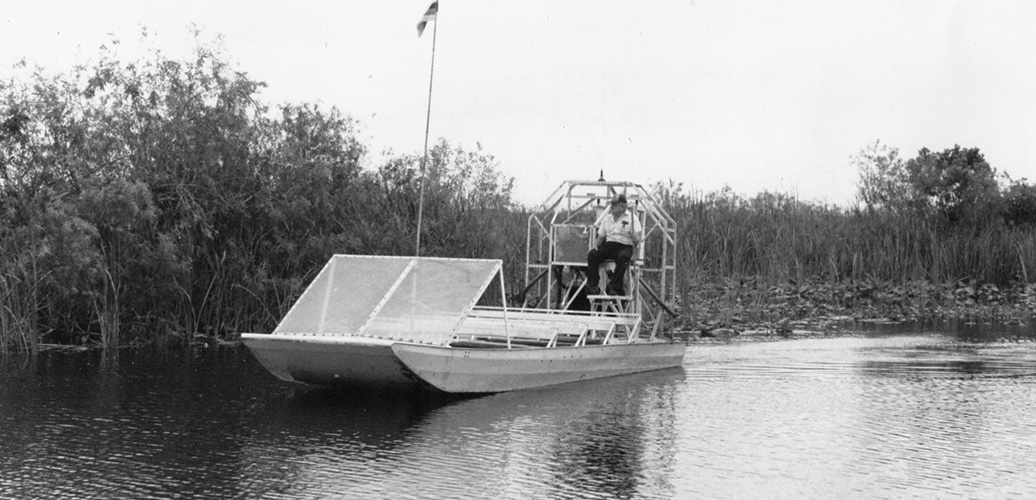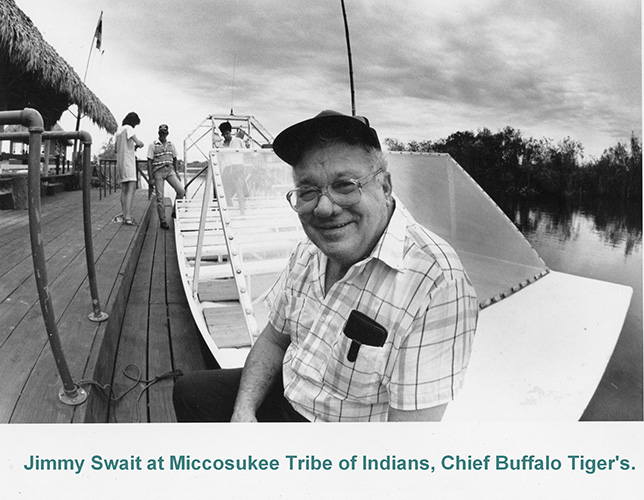 1st SWAIT GENERATION BEGINS IN THE 1940's
SWAIT'S AIR BOAT SERVICE, INC.
Founder James (Jimmy) Swait served in WWll as a U.S. Navy Frogman (currently known as S.E.A.L.) Demolition Expert and Air Force Reserves, who swept the mines off of Normandy Beach on D-Day.
He moved to Hialeah (Miami) Florida and joined the U.S. Coast Guard as a mechanic and Patrol Officer.
He began building his personal air propelled vessel for the Everglades in the late 1940's and his idea to build them came from his career. An air propelled boat and a twin engine design drawing existed within the USCG patent office, but not yet constructed. A few people began ideas in construction and Glenn Curtis with a V-shaped hull that the sides too low for ocean tides and especially not for use in the everglades. Jimmy tried it with a flat bottom hull, higher seating above the saw grass and the Coast Guard's air propelled vision, which would become the basic engineering design we know today.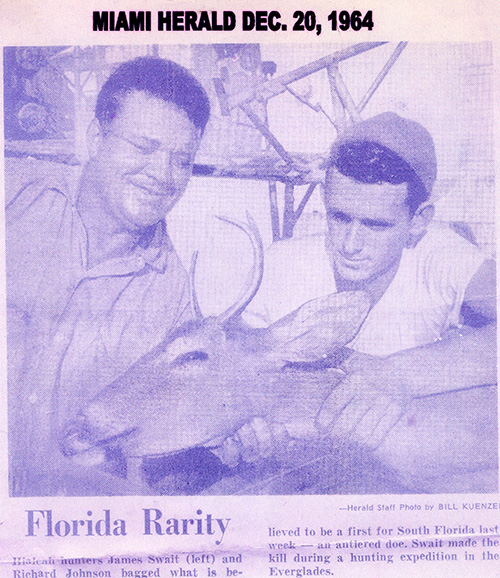 He caught the first antler doe and the first albino alligator.

In 1961 James Swait would become the CADILLAC KING for building his large 10-12 passenger boats for the first time with V-8 auto engines.  It was the most economical advantage with ease of maintenance and high performance.
He was going to fly Cadillacs in the air and it all began in a backyard.
He went to several fish camps along the Everglades to put the first ever large passenger sized air boats that he manufactured to operate tour rides, and also able to aid in surveys and rescues. 
In 1970 GM Cadillac came out with the 500 C.I.D. and Jimmy jumped on it to push his large air boats, It not only had the highest torque to push the larger 12-15 passenger boats, but the idea emerged to make his boats even bigger.
In 1975, he and his wife Incorporated "SWAIT'S AIR BOAT SERVICE, INC."

He loved showing the people up close many things about the Everglades. He taught about the names of the birds, species, and what our wildlife was all about. Mostly we were learning what did or did not work on our air boats.
In the mid 1970 to early 80's, tourism was growing with the air boat rides.  Our boats were built holding over 25 passengers and over 25' in length, running 8 hours a day, every day of the week, all year long. That is a heavy operating load on mechanical equipment and hull structures, not to mention putting boats against the harsh tough environment of the everglades. So it was up to everyone in the family to help improve better ideas; making hulls and engines reliable and dependable.  To make sure tourist are comfortable and safe. We had boat loads of guest who would not expect anything less.  
He built the world's first largest, first twin and quad engine air boats.
He invented the roofs and windshields on air boats to help with the tropical environment tourist had to endure from saw grass, sun, and rain.
He designed the wooden speed propeller and spacer, the CADILLAC 525, 530, and 550 C.I.D.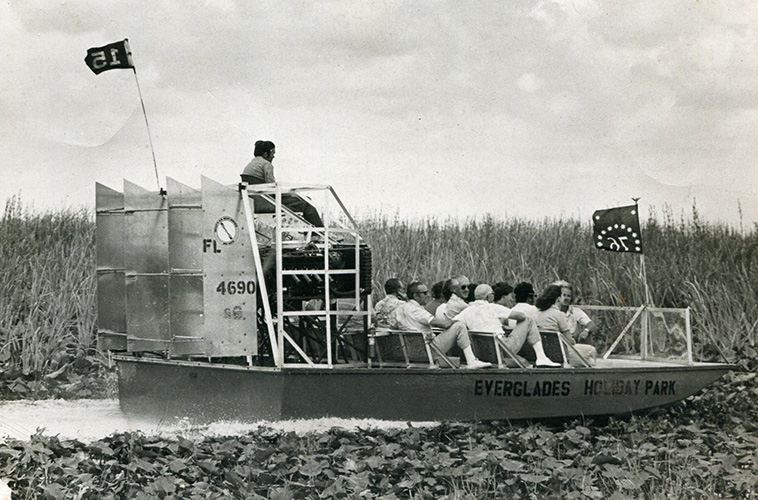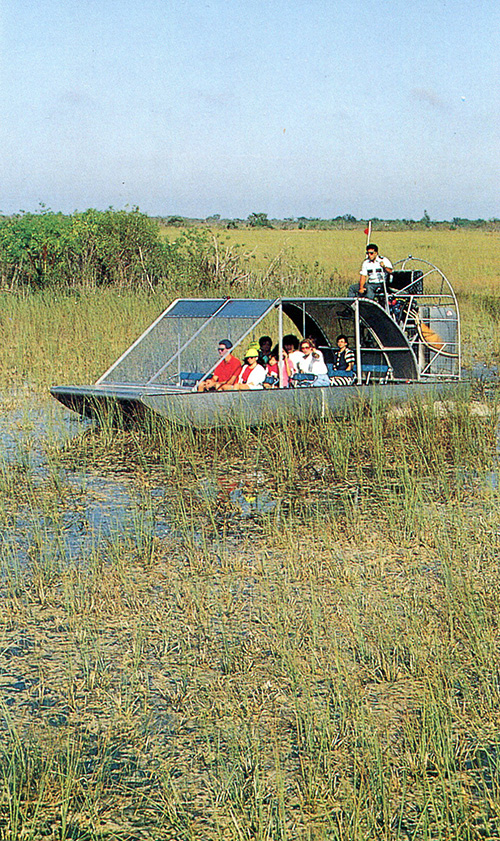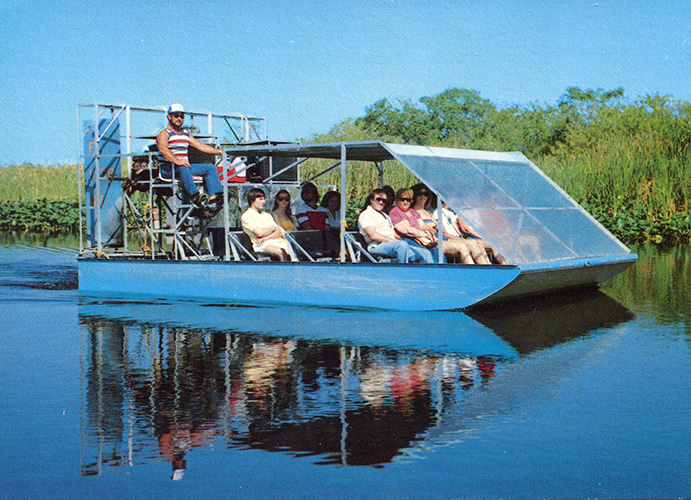 2nd SWAIT GENERATION  
In 1993 Jimmy Swait passed away and the reliable legacy continued with the next generation.
While the operating of tour rides was all sold out, they continued to manufacture, service, and provide the parts needed to the public.
They also invented the stair cased seating for large passenger boats; tread plate flooring used inside the hull bottom, and using aluminum for propeller cages.
The first to make an air boat manual and maintenance schedule.
Building huge wind fans equipped with Cadillac V-8 motors used by several fortune 500 industries, and over 100 TV, film and print work using air boats.
This generation kept us flying the Cadillac's in the air and tour operators moving.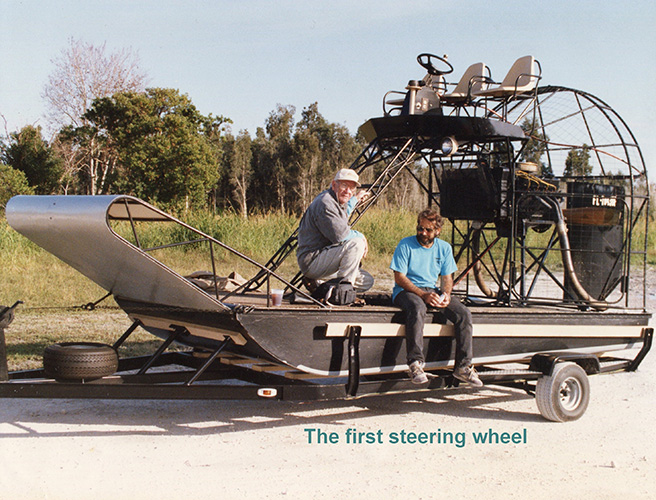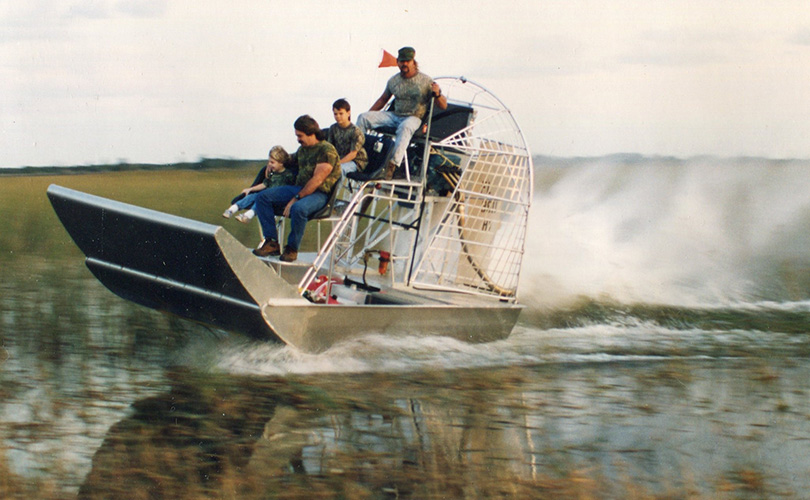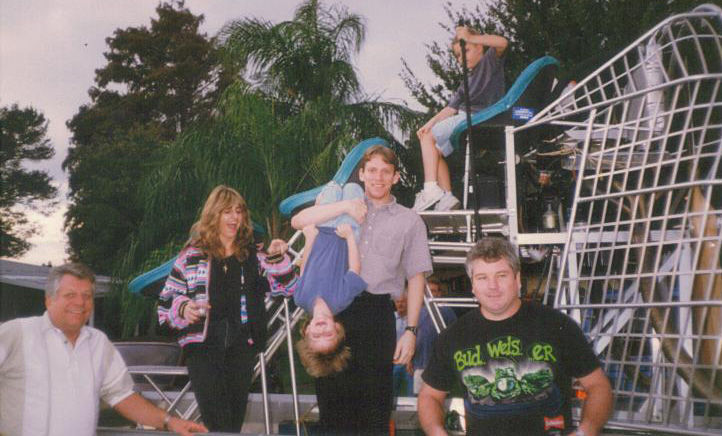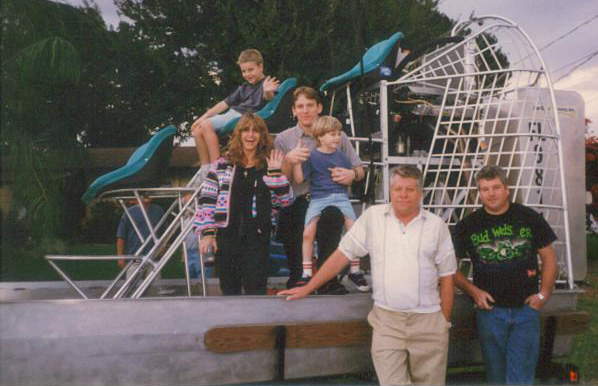 3rd SWAIT GENERATION IS HERE
SWAIT AIR BOAT DEPOT, INC.
2015 SWAIT AIR BOAT DEPOT, INC. /d.b.a./ AIR BOAT DEPOT is proud to continue this legacy by providing you with the right parts and materials to do it yourself.
Understanding our past founders as OEM's, tourism creators and the parts for air boats will help make sure we continue to take your boats where other vehicles can't go, because……Our Name and Reputation Rides with Every Passenger.
WHAT WE TRY TO LOOK FOR IN PARTS
HIGH PERFORMANCE
QUALITY MATERIALS
HEAVY DUTY
REPUTATION & DURABILITY 

TO MEET THOSE
HOURS OF FLEET ENDURANCE
SPECIALIZING IN FLEET PART DEMANDS